Get online reviews on sites that matter to your business and boost customer happiness by leveraging feedback from over 600 online review sources
Handling and Managing Reviews
We understand that one of the most challenging aspects of handling and managing online ratings and reviews for business owners is identifying and sorting out the information in the first place. Our reputation management services in Columbia simplifies that process by giving you an easy and effective way to gather all the reviews and ratings from real customers. Just imagine how much effort and time you're saving with our automated reputation services in the entire collection process. This could have taken days, even weeks (depending on the scale of your business) if done manually – not to mention the chances of human error that would crop up.
Addressing the Concerns
Once your reviews, feedbacks, and ratings are collected, it's time to separate the good, the bad, and the ugly. Manually looking for positive and negative reviews will take days. But our reputation management services collect all the positive feedbacks in one place, and all the negative ones in another. Then, the real work begins: our reputation management services helps you identify the areas that need attention. We'll also suggest a plan of action that will help solve common issues raised in various customer feedback. Our reputation management services also help you strengthen your strong areas and how you can enhance and maintain your already unique services.
Almost every company as a review and rating section where customers share their experience, but only a handful of companies address the underlying concerns. With our reputation management services, you could be one of the select few companies known to rectify their issues and make sure their customers have a great experience doing business with them.
Renew Power Marketing has trained reputation management professionals and more digital services in the USA , making it your one-stop-shop.
Be In The Know Of Your Business Reputation
Gather more reviews from your customers via email, SMS, kiosks at your location, on your website, on your social channels, in your RPM Rep business dashboard.
"It takes 20 years to build a reputation and five minutes to ruin it. If you think about that, you'll do things differently." – Warren Buffett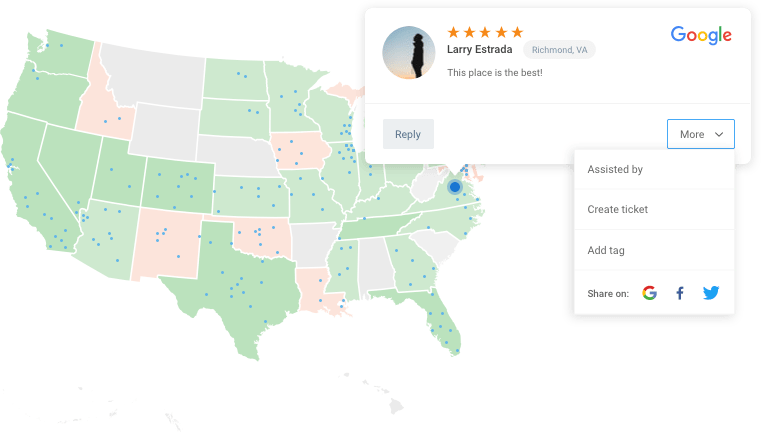 Turn Customer Reviews Into Your
Competitive Edge
Get New Reviews, Manage Them And Promote Them Across The Web For 1, 10 Or 10,000 Locations. All From One Dashboard.