Written and Updated By Real Privacy Attorneys….NOT Robots
One Solution To Protect It All ​
Privacy Policies & More For Your Website That Automatically Update Whenever The Laws Change.
Easy Setup

Answer a few questions to quickly generate any policy. You can even send the questionnaire to your client for them to fill out.
One Dashboard, Unlimited Installations

Agencies and businesses with multiple domains appreciate a single dashboard to manage everything.
Set It & Forget It

When you embed a Termageddon policy onto a website, it will automatically be updated by Termageddon whenever the law changes.
Unlimited Changes

Websites are no longer static. They are constantly updating. When you add a new feature or functionality and need to update your policy, simply update the installations questionnaire with your change.
Automatically Updating

The law is constantly changing and keeping a constant eye on when you need to update a policy can be daunting. Save yourself time and money
Override Updates

Want to edit parts of the agreement? No problem, each section, when manually edited, remains intact, regardless of future updates.
Sharing Enabled

Easily share your installation with your web developer, client, or attorney. Users can add and update installation policies as well as copy the embed code to put onto the website.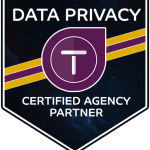 Website Policy Creation
Why You Need Website Policies
Every flourishing and thriving business has a website these days; it's because a website not only makes the business more accessible and visible, but it also helps in generating leads. The simplest and most effective way to generate leads is to collect information through a contact form. The online contact form usually includes the name, email address, and cell phone number of the visitor. Such contact forms help businesses with lead generation but also opens their clients up to liabilities.
Policymakers and lawmakers have recently embarked on proposing and passing laws to safeguard consumers' private information. These privacy policies have become mandatory for every website that gathers personal information to include. Lawmakers haven't stopped at websites – they've expanded their influence over social sharing, as well.
Most websites these days are linked to your social media profiles; for example, you could access many websites by simply signing in from your social media accounts, like Facebook. Companies and businesses want to connect with their potential customers on all platforms to make sure that they're kept up-to-date with the latest services and products on offer. Every website has a social platform(s) integration feature. If the consumer's rights are not protected on websites with links to third-party sites like Twitter or Facebook, then the website owner could have a potential lawsuit on their hands.
Trusted Website Policy Creation Services in Columbia
If you have a website that lacks policies, then you've come to the right place. Renew Power Marketing has leading privacy attorneys in Columbia who will craft a comprehensive set of policies for your website that will be consistent with your business.
Ever-changing laws
Laws and policies are always changing: what's legal today might not be legally required tomorrow. Does this mean you'll have to make changes to your policies every time a new law is introduced? When you hire Renew Power Marketing to draft your website's policies, we'll create an auto-update feature in your policy page. It will automatically update whenever there is a change in the current law or regulations concerning your policies.
A Safe Environment
A privacy policy will make your clients and customers feel safe while doing business with you. They'll feel reassured that their private information is safeguarded and won't be misused. Apart from making your clients feel safe, a privacy policy gives your business a legitimate cover. Renew Power Marketing offers easy-to-setup policy options. Our experienced attorneys will create a legally sound privacy policy that will safeguard your clients and your business.
You won't have to change or update any clause in the policy since our automatic updates will take care of the privacy policy page content. If you want to update or edit your policy manually, then you can easily do that from one dashboard.
Generate Website Policy
PRIVACY POLICIES
TERMS & CONDITIONS
DISCLAIMERS
END USER LICENSE AGREEMENTS
Fast 3 Step Set Up
BUY ONE INSTALLATION OR AS MANY AS YOU NEED
ANSWER SOME QUESTIONS ABOUT YOUR BUSINESS AND WEBSITE.
EMBED THE CODE ONTO YOUR WEBSITE'S FOOTER.